hey guys, this is my car shes a 98 civic ej9 with a d16z6 swap and a few other bits lol
heres the spec list....
Spec list -
98 EJ9 1.4 SOHC 16v (stock)
Now has
D16z6 motor (esi)
HKS mushroom filter (custom color) with cold air feed
JDM H22 throttle body
Skunk2 intake manifold
hondata thermal gasket
janspeed header and de-cat
custom made cat-back system (i-tuned)
B16 rad
fidanza flywheel (8lb's)
gripforce stage 1 clutch
Chipped ecu (P28)
soon to have a lower opening thermostat as iv noticed she can get quite hot.
megaleads blue (competition apparently) HT leads
car runs on mobil 1 oil and i use hamp oil filters, NGK irridiums.
SPOON SOCKS!!! lol
think thats about it for the engine, not a massive list.
my real love is cornering
Suspension and steering
Koni yellow shocks
tenzo R coilovers sleeves
Buddy club camber adjsuters
NRG Bushings
front lower tie bar
front upper tie bar (cusco i fluresent yellow)
rear lower tie bar (yellow)
upper rear tie bar (megan racig anodised red)
c-pillar strut (egay lol)
blox rear LCA's
VTi front ARB
just had new steering rack (vti)
tegiwa imports tow hook
seats - ep3, sparco harnesses
fully stripped rear end
Brakes and wheels
Wheels were pro-race 1.2's with a polished lip, thier now just all black pro-races after my icident with the kerb, powder coat ftw!!!
thier wrapped in parada spec-2's
262's brake coversion 9stocks were 242 lol!)
mintex cross drilled and grooved 262 discs
mintex pads
dot 5.1 brake fluid lol
vti master cylinder
thinks thats about it to be honest, apart from looks anyway, and i havnt doe much on that frot
wheels and suspension pretty much do the looks,
usualy have a mugen front lip, just waiting on it
as i am also my tilt bracket from my ex who is convinsed she dosnt have it. . . .ye right
smoked side repeaters
not sure what the grill is but its better than stock (kinda ek9 looknig i guess)
de-badged
facelift rear lights
DIY "EK9'd" headlights (inside sprayed black lol)
mugen badge on the grill
removed rear wiper
Import sized plates
you get the idea ayway
bit of rust on the rear arch which is goin in soon to be done, other wise reasonably clean, all opinions welcomed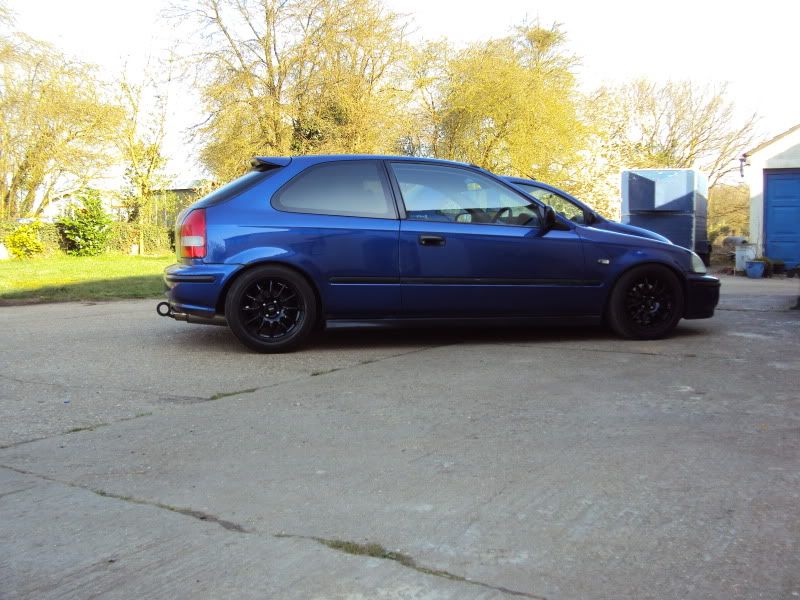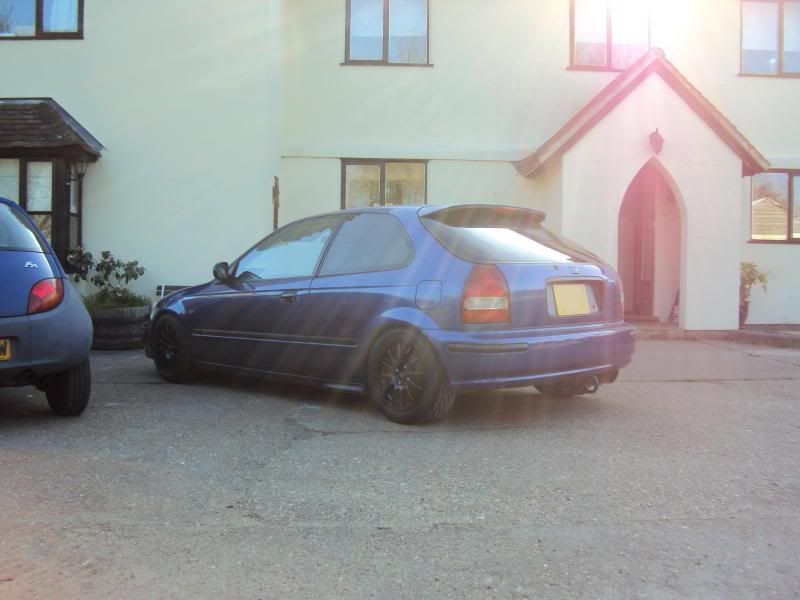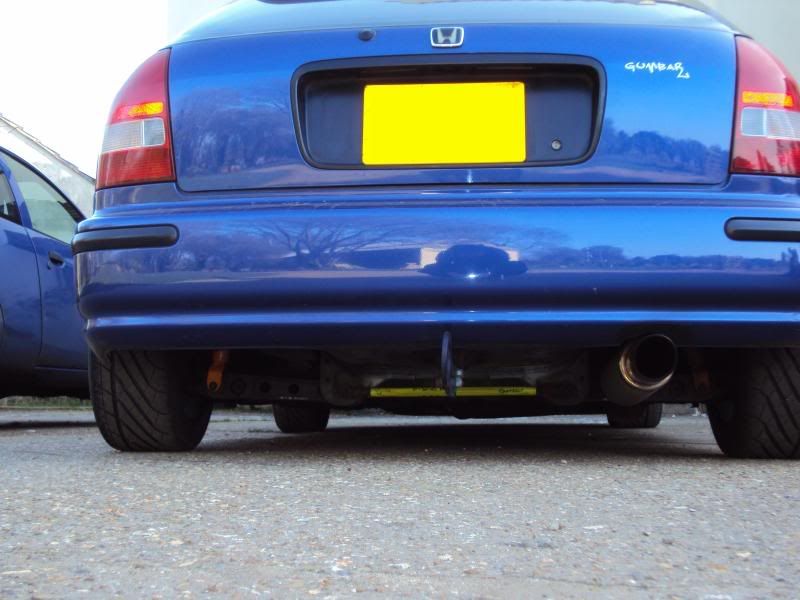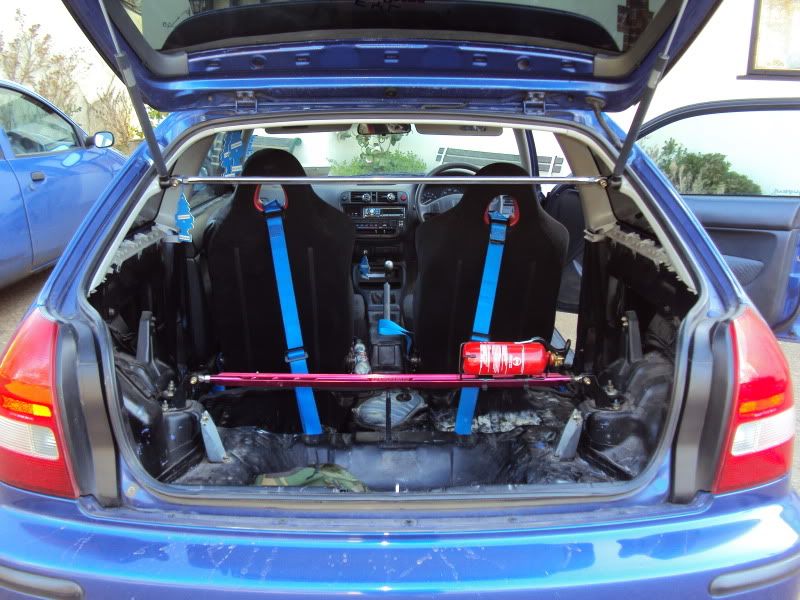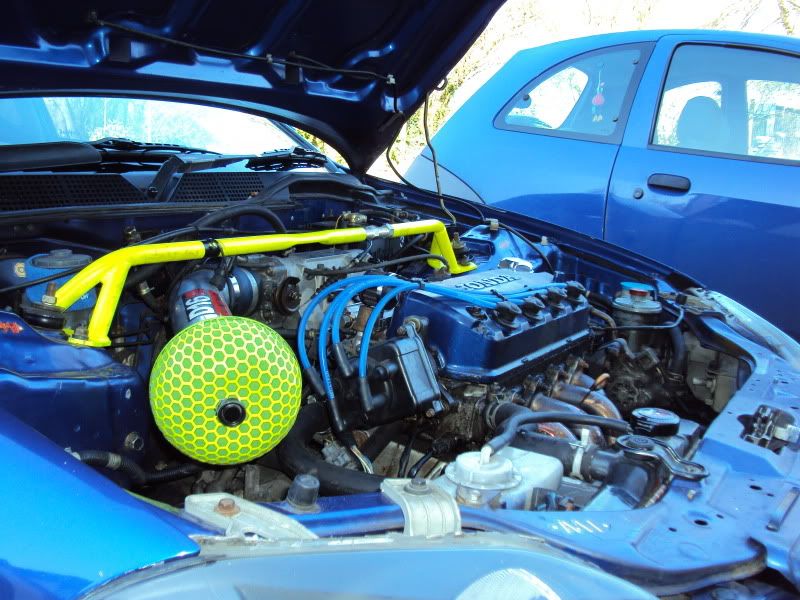 what you all thinking? obviously its aimed more at driving hard than looking good