Our next Cruise, CWC25 is taking place on Saturday 8th October.
6 years on and we are back at Hollywood Park.
Location:
Hollywood Park (Retail Park)
Hindpool Road
Barrow In Furness
LA14 2NA
8pm onwards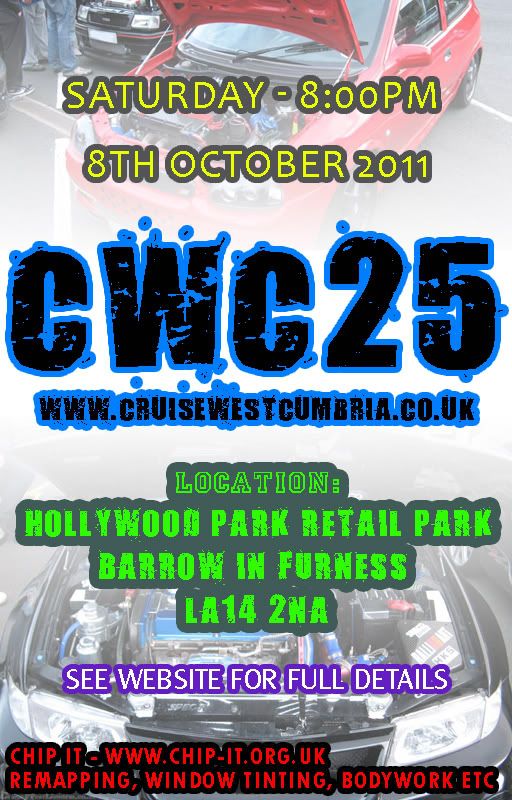 At CWC25 you will have the chance to see a mock crash scene involving Cumbria Fire, Police and Ambulance Services. You can check out the emergency vehicles, including a performance police car, and the cutting equipment they use.
Take part in questionnaires and competitions. Just some of the prizes to be won:
A voucher for £100 at the Speed of Sounds in Barrow
£25 Halfords voucher
Reduced priced food at KFC and MC D's at CWC25
2x £17 vouchers to spend at KFC
2 person tour of M-Sport, Ford World Rally team
More TBC.
More details also to follow.
The main entrance from the KFC / Pizza hut roundabout has a speed bump. Lowered cars might want to enter the car park via the alternative entrances marked with blue arrows to avoid the speed bump. Inside the car park there are a few speed bumps, but you can drive around the carpark easily without going over any. When it is crammed full on the night it might be a bit more difficult to do full laps without having to cross one.
There will be no burger van at this Cruise as there is already a McDonalds, KFC and Pizza Hut.
We hope to see you there